With almost 1.5 billion daily active users who spend an average of 20 minutes per Facebook visit, Facebook has the largest and most engaged user base out of all the social media platforms.
And, they've built the best targeting tools and the most cost-effective ads for advertisers out there
Facebook has come along way since its debut in 2004, especially when it comes to Facebook advertising. In fact, Facebook has almost single-handedly turned paid social media marketing into a foundation of every marketing strategy. But how did they get there? Let's start by taking a look back.
How did we get here?
While Facebook launched in 2004, Facebook Ads weren't introduced until 2007. The original ad platform allowed users to learn about brands and businesses through trusted referrals from their friends on Facebook. Then advertisers could connect with users by creating a Facebook Page and targeting the exact people they were interested in.
Facebook's advanced targeting options make it possible to target the right people at the right time, the key is knowing how to do this successfully.
Eventually, mobile ads were created in 2011. Then the next big milestone was in 2013 when ads moved off the right sidebar to the newsfeed. "This was kind of the birth of native content or native advertising on Facebook," Digital Marketing Consultant/Coach Logan Mayville says. "So there were some really cool opportunities in addition to looking just like Facebook posts. You could also pay to monetize people's activities."
In 2014, Facebook's conversion and retargeting pixels became fully mature. This allowed advertisers to effectively drive people off of Facebook onto their website, record their action on the website, and communicate back to Facebook how much that action cost in ad monies. Plus, it allowed for retargeting. "This was probably the biggest leap business-wise for the Facebook advertising platform," Mayville says.
Now, 14 years later, the company that began in a Harvard dorm room is one of the most powerful advertising platforms we have today. But with these advances come new challenges, and even the most experienced digital marketers can run into issues with their Facebook advertising campaigns. So to avoid those costly mistakes, here is everything you need to know about Facebook advertising today.
It's All About Your Audience
Getting to know who your customers really are is a crucial step for a successful Facebook ads campaign. With so many active Facebook users, it's important that you target only those who are already or could be interested in your product.
"Facebook ads aren't a magic button, you need to put them on top of something that already works in order to accelerate it."
Facebook audiences can essentially be broken into four categories:
Interest-based audiences are generally cold audiences – when you want to introduce yourself to people who haven't heard of you before

Lookalike audiences are new people who are likely to be interested in your business because they're similar to your existing customers

Custom audiences are customers you already know are on Facebook

Event-based custom audiences are the bottom of your funnel, these are people who have visited certain pages or taken particular actions on your website. You can then target these audiences with highly relevant ad campaigns
Finding the right target audience is one of the keys to successful Facebook ads optimization. Facebook's advanced targeting options make it possible to target the right people at the right time, the key is knowing how to do this successfully.
Strategy
"The strategy of Facebook ads is different than Google Adwords because it's push vs. pull," Mayville says. "With Google Adwords, we've established their intent by their search, we know what they're looking for and we're basically just paying to slide our brand or product in front of them at the right time.
Because of that, Mayville says that Google Adwords will always convert better than Facebook Ads. That's because Facebook Ads are push advertising.
Facebook's advanced targeting options make it possible to target the right people at the right time, the key is knowing how to do this successfully.
"We're just interrupting your day," Mayville says of Facebook ads. "We have to be relevant enough that we can slide in there with something eye-catching and hopefully relevant to that person and grab them to either move off Facebook or conduct some sort of action within Facebook.
For this reason, Mayville points out how ineffective boosting posts is. "Boosting is not strategic because it doesn't take advantage of some of the advanced options in terms of audience targeting and it's optimized for engagement," he says. "So what you're telling Facebook is you want as many likes, comments, and shares as you can get me for the lowest cost. It's also not strategic because it's too easy, it was created in such a way that it wasn't meant to be an ad, it was meant to be organic content.
So to avoid wasting money, Mayville suggests building out actual ads and focusing only on the traffic, video views, and conversions objectives. He also says in order to really get anything out of it, there are really only two reasons you should be advertising on Facebook in the first place.
You have a sales process you'd like to accelerate.
"Facebook ads aren't a magic button, you need to put them on top of something that already works in order to accelerate it," Mayville says.
You have a new sales process you'd like to test.
"If you have the sales process, now is the time to layer on the marketing strategy," Mayville says
The Facebook Ads Two-Step
What you need:
A high-quality blog post or video (something that's targeting the top of the funnel, awareness level content


A landing page complete with a lead magnet, for some sort of exchange of information


A Facebook Pixel to track conversion
In order put the Facebook Ads Two-Step into action, Mayville suggests first, creating a traffic objective ad around the high-quality blog post or video, which targets a cold audience and ultimately drives them to your landing page.
Then, take the information you've collected from this landing page traffic and create a custom warm audience back in Facebook using the blog URL. Next, you'll target this warm audience with a new Facebook ad that drives to a lead magnet landing page with the conversion objective. You can then track your CPA by creating a custom conversion in Facebook-based around the lead magnet URL. Lastly, measure your results and transition these leads to the next step in your sales process.
"This is a very basic strategy that the majority of successful Facebook advertisers use in some way, shape, or form," Mayville says.
Once you've developed this ad strategy based on your sales process, Mayville suggests spending a lot of time developing your audience.
Audience
While there are many ways to customize your Facebook ads, one of the biggest factors in how successful that campaign depends on whether you're targeting a warm audience or cold audience.
A cold audience is a group of people who have never come into contact with your business.
When to use a cold audience:
You don't have enough data for a warm audience


You're promoting top-of-funnel content


You need more traffic or to scale a prospecting strategy
A warm audience is a group of people who've had some sort of interaction with your business.
When to use a warm audience:
You have a list of people who have visited your website or took specific actions using Facebook Pixel


You have a list of people who launched your app


You have a list of people who have engaged with your content on Facebook or Instagram
But how do you catch your audiences eye once you've zeroed in on them? The key is your creative.
Creative
When it comes to Facebook ads, the first thing people see is the image. "If your image doesn't have thumb-stopping ability, they're just going to keep cruising past," Mayville says. So make sure you're using eye-catching images.
If your image catches their eye and a person stops, their eyes will go to the text next. "The recommended character count for text is 90 characters," Mayville points out. "That only is really enough for one thought - you can't really pack a lot of information into there. So my suggestion is to sell the click, not sell the thing."
The last thing a person will look at is the headline. "What the headline does is it tells them exactly what they're clicking on," he says. "So I don't like to mess around. I like to keep it very literal."
When it comes to text and headlines, Mayville suggests selling the click - not the product/service, and when in doubt, going short.
Multiple factors contribute to whether your Facebook advertising campaigns succeed or fail. Copy, imagery, optimization, strategy, and countless other factors all matter. But nothing will affect your results more than your audience and how you go about targeting them. Learn how to utilize Facebook ads correctly though, and you are sure to see success.
More from Logan Mayville and Blueriver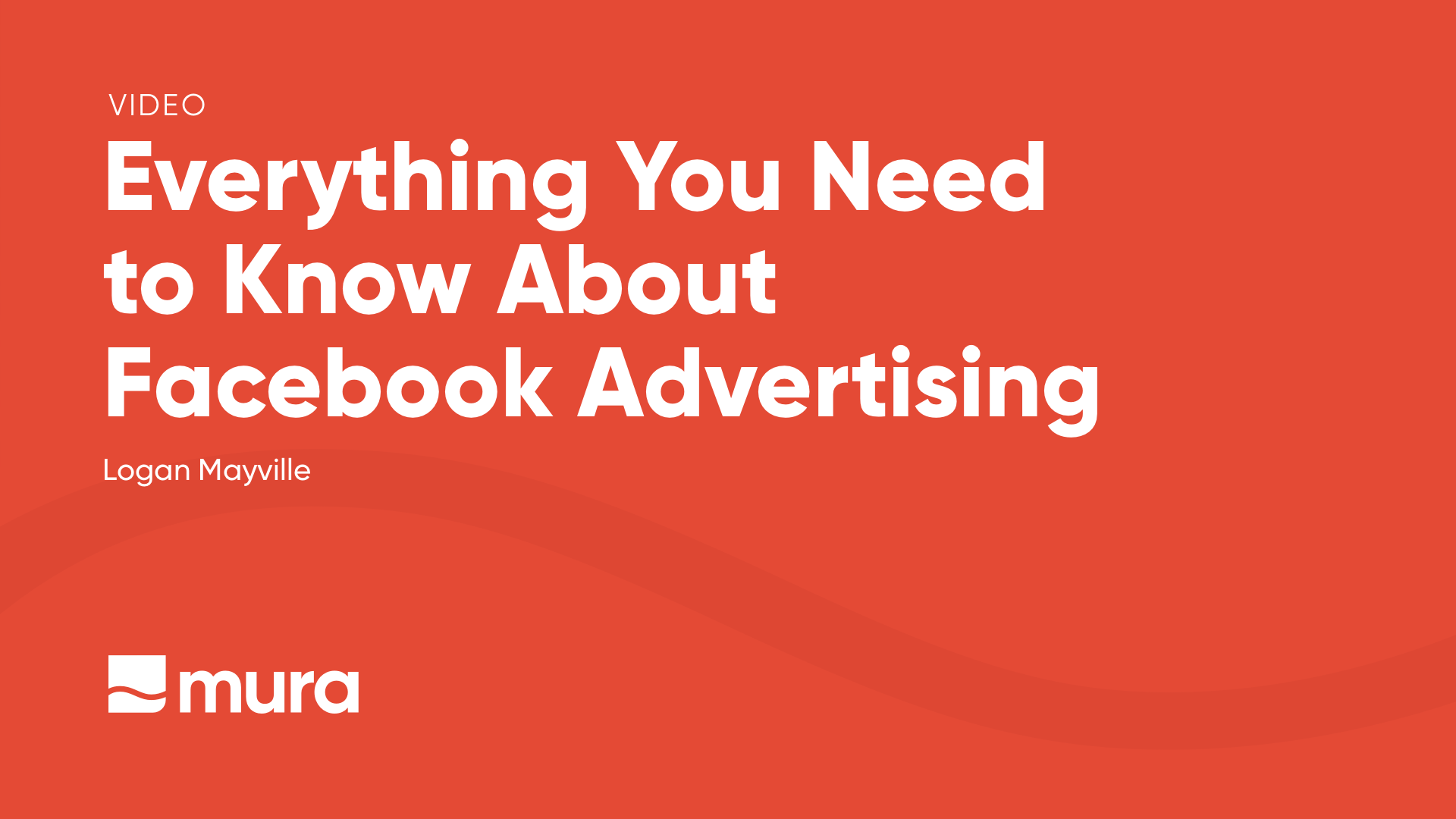 In the U.S., Google and Facebook account for more than 63% of digital ad spending.
But in addition to huge brands using their ad spend on digital instead of TV, Facebook has actually seen a renaissance in direct response marketing. But what about lead generation for enterprise and B2B? Can you sell on Facebook?
In short, yes. But in a marketplace over-saturated with ads, a holistic strategy encompassing content marketing and personalization in conjunction with display advertising has never been more important for lead generation. Savvy marketers looking to use Facebook ads for lead generation need to replace "sell" with "give" and let the business roll downhill from there.
In this free on-demand video presentation, Digital Marketing Consultant Logan Mayfield demonstrates:
How to find your target audiences on Facebook
How to turn cold audiences warm by building trust and authority with content
Advanced retargeting strategies to convert warm audiences into leads