As video marketing becomes more and more important, marketers need to look beyond the play count and access more detailed analytic data on users' activity to see not only who's watching these videos, but which parts they watched or which they skipped over completely. In short, we need to infer as much as we can about engagement. Then we can take it a step further by using it to drive lead score in Marketo.
Marketers are increasingly ditching platforms like YouTube in favor of premium accounts that provide these analytics. These platforms often have integrations with various marketing automation platforms so you can build your lead database through video marketing or see what your leads are actually doing with your videos.
Recently we decided to try out Wistia for our video hosting of our video interviews from Marketo Summit. We were impressed by Wistia's ease of use, as well as their analytics on each video, including which parts of the video were actually watched, skipped, and replayed by each user.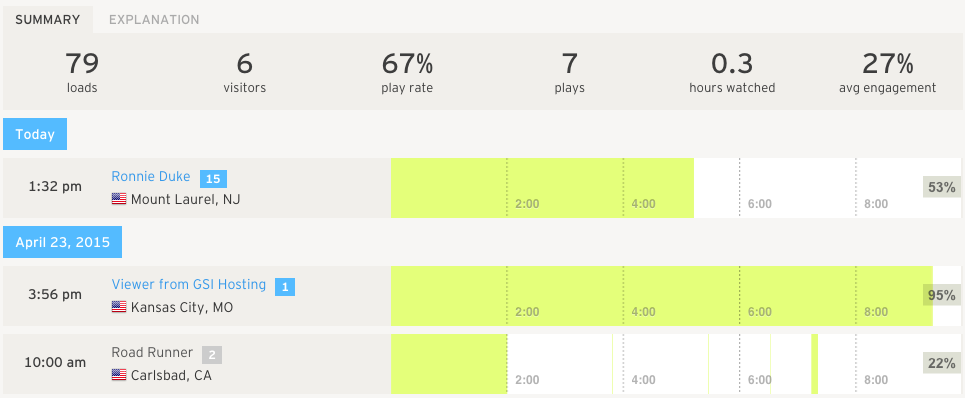 We have to admit though, we were a little disappointed that even though Wistia promotes "Marketing Automation Integration" for Marketo, it really only sent captured leads via their Turnstile into Marketo. Lead capturing is great, but we wanted to actually see what our audience was doing when it came to video activity.
A few weeks ago, I wrote about how to send custom querystrings to Marketo using the Munchkin API. This is a process where you define an action on your website, hook into Marketo's Munchkin event script and send that event to the leads Activity Log in Marketo in the form of a "Web Page Visit". Well, thanks to Github user vivianspencer, there is now a plugin that will hook into Wistia's player API and upon different milestones (play, 25%, 50%, 75% and 100%), send those events to the leads Activity Log!
The instalation is actually pretty simple. Just include the following javascript files in your site, and any Wistia videos will automatically be found, and the play activity will automatically be sent to the leads Activity log.
Now, when users watch the video, their progress should show up in their Activity Log:

If you click on the ID of the record and view the Activity Details, you will also see the Query Parameters that log the name of the video in Wistia. And that can be helpful if you want to track the activity of specific videos: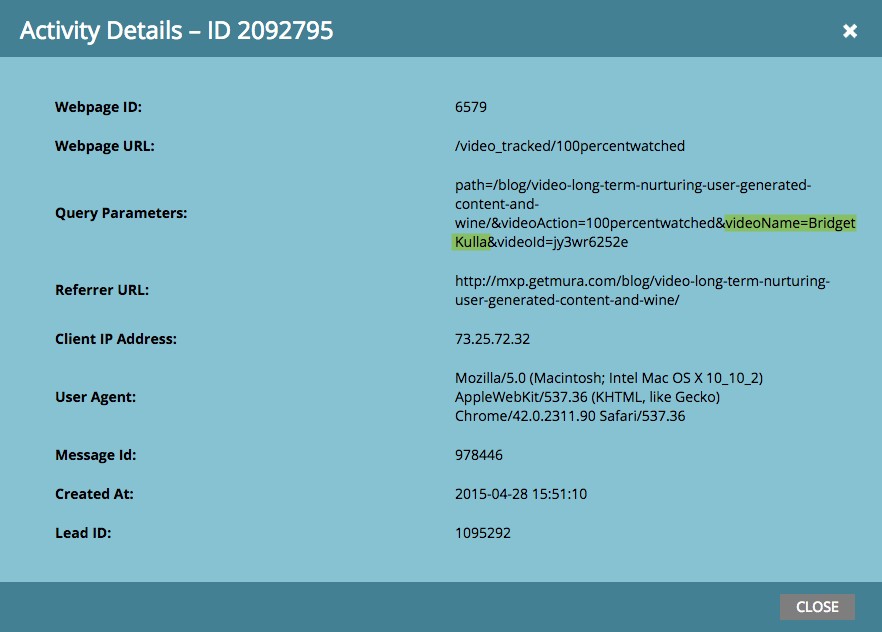 And now that you have access to this data in the user's activity log, you can easily add it to your lead scoring model. For example, we assign a point for every 25% increment the user passes when playing the video, for a total of 4 points (25%, 50%, 75%, & 100%). If your content strategy relies heavily on videos, you could even assign more points to the 100% mark to give it more weight for prospects who are actually completing your videos.


When combined with some of the other metrics we can track such as scroll depoth and active time on a page, we get valuable insights to measure how well our content, video or otherwise, is engaging our audience. And at the end of the day, isn't engaging an audience what truly affects our bottom line?