As the Mura CMS community continues to expand and evolve, there are a growing number of ways to find out about Mura, and an increasing number of sources for useful tips, samples, ideas and instructions.
Like any free and open-source software, Mura has developed through the work and contributions of numerous developers, most of whom have also added to the pool of online resources through blog posts, forum interactions, github demos and code samples.
All of these resources are openly available, and the list of search engine results for any Mura-specific topic continues to grow. For new developers, this can be both encouraging and overwhelming, wondering which way to turn for answers to specific programming questions, or where to reach out for help when debugging a new error message or troubleshooting an unresponsive site.
In these situations, there are a few key resources any Mura CMS developer, content contributor or site manager should be aware of. Conveniently enough, they are also very easy to find.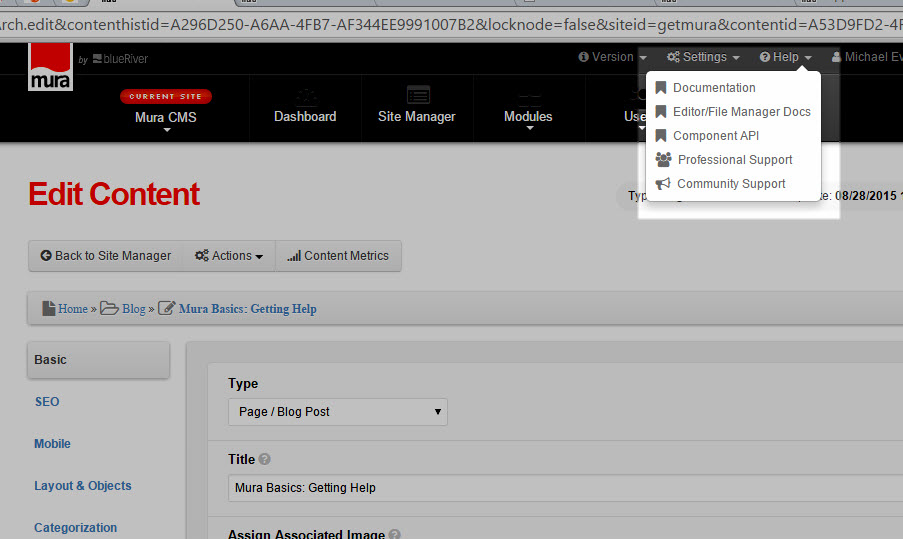 Official Mura CMS Help Resources
The first place to look is within the Mura CMS admin area itself, where a simple "Help" link provides direct access to the primary sources of Mura CMS Support:

Mura CMS Documentation: this is the official docs source for Front-End and Back-End Mura developers and Content Managers, with links to helpful installation instructions and video tutorials.
Editor/File Manager Docs: docs.cksource.com is the official documentation site for CKEditor and CKFinder, which are used as part of Mura's core content editing functionality. The useful User's Guide and HowTo tutorials are worth looking through for anyone managing content within Mura's rich text editor.
Component API: this no-nonsense view allows for easy exploration of all of the classes and methods comprising Mura's core functionality, with a clean visual breakdown of each method's arguments and other details.
Professional Support: Blue River's annual support options provide a fast track to development success with direct access to the same folks who build and maintain Mura CMS. Leverage the team's knowledge and experience to super-charge your projects with pro guidance and best-practice insight.
Community Support: regardless of your social media preference, there is likely a channel, group or page for Mura CMS in the mix. The most-frequented online community forum is the Mura CMS Google Group, where developers from all over the world seek and share advice, guidance and all sorts of Mura-related topics.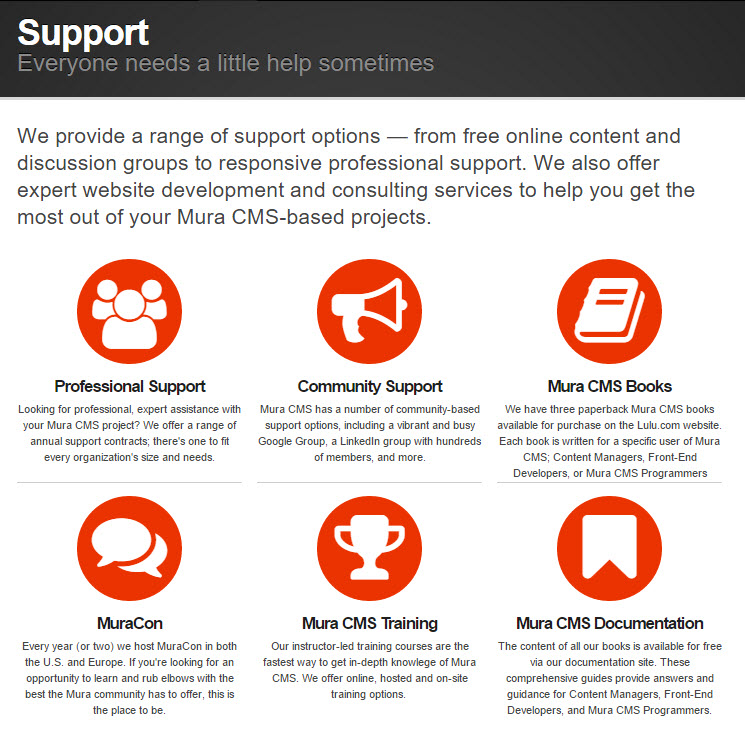 Reporting a Problem
In addition to these primary sources of general Mura information and support, there are also official channels for reporting, and patching, bugs or errors that may present themselves along the way. The preferred method for proposing any additions or officially flagging any bugs in Mura is via the Mura CMS github repository.
The "Issues" option in Github provides a list of currently-opened bug reports or suggested changes. Before flagging a new bug, it is recommended to search the list of existing issues for anything similar, adding your own details if the same issue has already been raised. For code contributions, the recommended method includes forking the Mura repository, making your own changes there, and filing a "Pull Request" to submit the proposed changes, which will be reviewed by a member of the Mura development team.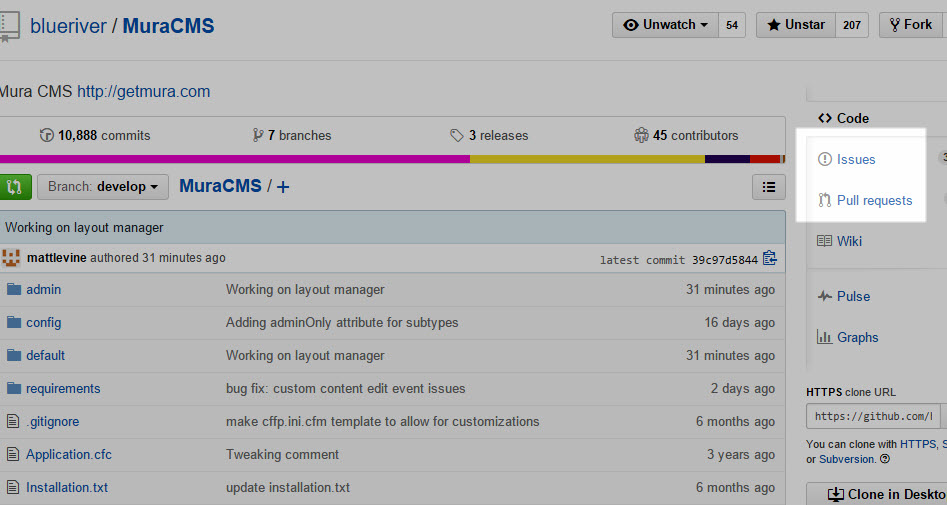 It is often recommended to follow some basic troubleshooting steps, and gather some basic information before filing an official bug report.
For example, does the error occur on all sites, or only one site in the Mura instance? Was anything changed before the error first appeared? Are the Mura Core and Site files both up to date? Has there been any alteration to the core code, or any plugins added to the page where the error is appearing?
Worth noting, subscribers to any of Blue River's robust professional support packages may also submit issues directly to Mura's development team along with personalized feedback and expedited assistance resolving any problems on the project or website at hand. This is ideal for busy Mura development shops or business-class website customers where rapid resolutions are a must.
Additional Resources
In addition to community involvement and paid support channels, Mura's top minds are also available for online, on-site and hosted training sessions. This is time well spent for any programmer or front-end developer looking for an interactive, immersive learning experience, working in tandem with actual Mura CMS team members to tailor a course of instruction specific to their requirements and experience level.
For designers looking to fast-track a new site's development or anyone seeking a better understanding of Mura's theme structure, the Mura CMS offerings at ThemeForest.net provide a selection of prebuilt Mura CMS websites, delivered with sample content and a complete design in the form of a Mura site bundle, ready to install and customize right away.

?Of course, our best resource is our community, and more importantly, the people who make up that community with their contributions, perspectives and experience. MuraCon is the official Mura CMS conference, hosted and presented by Blue River, makers of Mura, with sessions and topics presented by some of the brightest minds and talented personalities in the Mura CMS ecosystem, where attendees from multiple countries come together to share their ideas and developments. See www.muracon.com for details.
Another valuable resource, of course, is this blog, with new tips, tutorials, and topics published regularly. Be sure to subscribe or check back often at www.getmura.com/blog .

Do you have a favorite source for Mura CMS ideas and information not covered in this article? Feel free to share it in the comments.