Mura CMS version 7 includes new front-end options along with a full redesign of the admin screens, and many items have been moved and/or renamed. Here's a quick guide to help you get reoriented. (Full documentation for Mura 7 will be available soon.)
Back-End Admin Screens
Main Toolbar: As part of the redesign, we moved the Mura Admin's navigation toolbar from the top of the screen to the left side, with a dynamic option to collapse the menu altogether. This frees up valuable screen real estate, and helps create a more streamlined admin experience.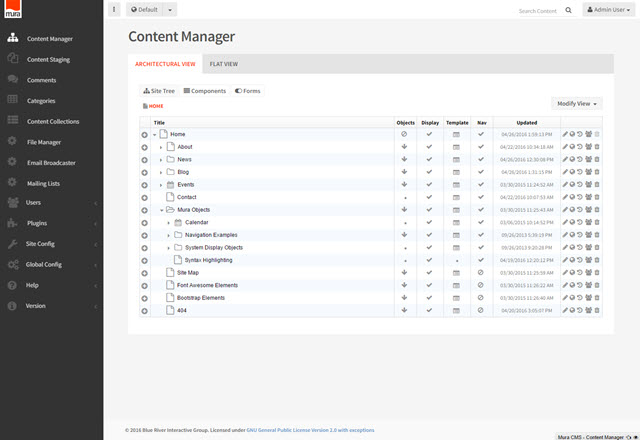 Dashboard: There is no dashboard now (well, not by default at least). The default view when you log in to the back end admin screens will be the Content Manager (formerly called Site Manager). We made this change because Mura is all about getting things done, and the content manager is where most site editing/updating action takes place. Plus, since we're deprecating the Mura-provided session tracking, there's not a lot of valuable content in the dashboard.

Don't worry, if you prefer the dashboard view, you can enable it via a config setting. And you can, of course, write any code you want to customize your dashboard to your heart's content.
Modules Menu: We've eliminated the Modules menu, and the items that used to be found here have been moved to different, more logical locations in the Mura Admin. Many have become top-level items in the left toolbar (Content Staging, Content Collections, File Manager), while Forms and Components can be found in the Content Manager main screen. Comments are also a top-level item, visible once enabled under Site Config > Modules.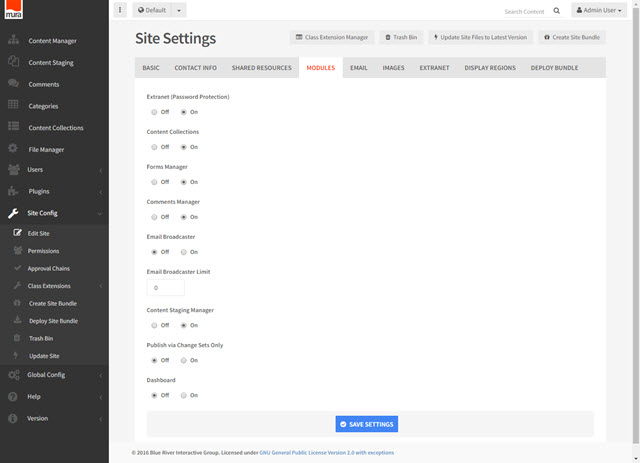 Deprecated Items: We're deprecating a number of features that we feel are not core to content management, and have become dated. These functionalities will still be present in Mura CMS 7.0 (although you will have to enable them via Site Config > Site Settings > Modules), but will be discontinued at some point in the not too-distant future.
Email Broadcaster and Mailing List Manager: There are so many third party apps that do this better - heck, entire companies have been built around this functionality! We encourage everyone who is still using either of these to consider moving to one of the third party services.
Session Tracking: Heavy use of this can create real performance problems, and isn't a good tool for any in-depth analysis of your site's traffic. If you want to see site statistics from within your Mura CMS admin screens, we recommend pursuing Google Analytics (or your analytics engine of choice) integration on the dashboard.
Front-End Editing
We've changed Quick Edit to Edit Layout, and it now contains much, much more functionality. We've added the ability to drag content objects onto the page - things like Forms, Images, Text Blocks, Components, etc. We'll provide full documentation on this soon, but for now, you can see how this works by just dragging one of the items in the right-hand menu onto the page (you can drop it anywhere). Once you've placed the item on the page, you'll get a set of options for that item in the right-hand menu. Make your choices, and publish your page.
Check it out in action in this quick video example, showing how easy it is to add a Local Content Index (and configure the layout) to the content of an existing page:

Once you get the hang of it, we think you'll find the content/page layout editing capabilities much more compelling and intuitive - you can see the page change in real-time!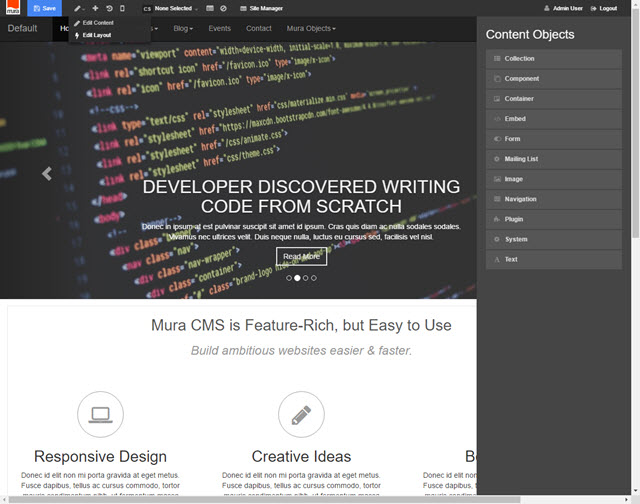 We've renamed Full Edit to Edit Content, and cleaned up the screens quite a bit. You'll notice that the content objects have been removed from the Layout and Objects tab; you can now access those through the Edit Layout functionality mentioned above.
New Bootstrap Bundle and Other Changes
Along with the release of Mura CMS 7.0, the basic "Bootstrap Bundle" site starter package has been completely reworked to include enhanced sample content and compatibility with Mura's new Layout Manager. This sample Mura site, complete with theme styling, responsive templates and example content, can be downloaded directly from Github.com at github.com/blueriver/MuraBootstrap3Bundle. This is a great way to get familiar with the new features and jump start any Mura CMS 7 project.
In addition to changes mentioned above, there are new options within the Form Builder, a streamlined always-available Content Search feature, and a reorganization of Forms and Components, now part of the Content Manager, with options to use folders to create groups of components or forms within a Mura site.
Watch this blog for additional announcements, documentation, updates and explanation of features. The release of Mura CMS 7.0 brings a new workflow and many streamlined options to the table. We'll be exploring those in more detail over the weeks ahead.
Also be sure to visit the Mura CMS Google Group for discussions of these new features and more as the community adopts and explores Mura CMS 7.
More Mura CMS 7 Info
Please take a few minutes to read the two other blog posts in this series, as they'll give you a quick overview of what's new and how things work: