Avenues for learning about Mura are more prevalent than ever, with an unprecedented array of options for following announcements, taking part in community discussions, and keeping apprised of important product updates.
Mura Google Group
The first and foremost resource for exchanging general help and advice is the official support forum for Mura users at https://groups.google.com/forum/#!forum/mura-cms-developers . This group has been active since March of 2011, with nearly 1000 current members.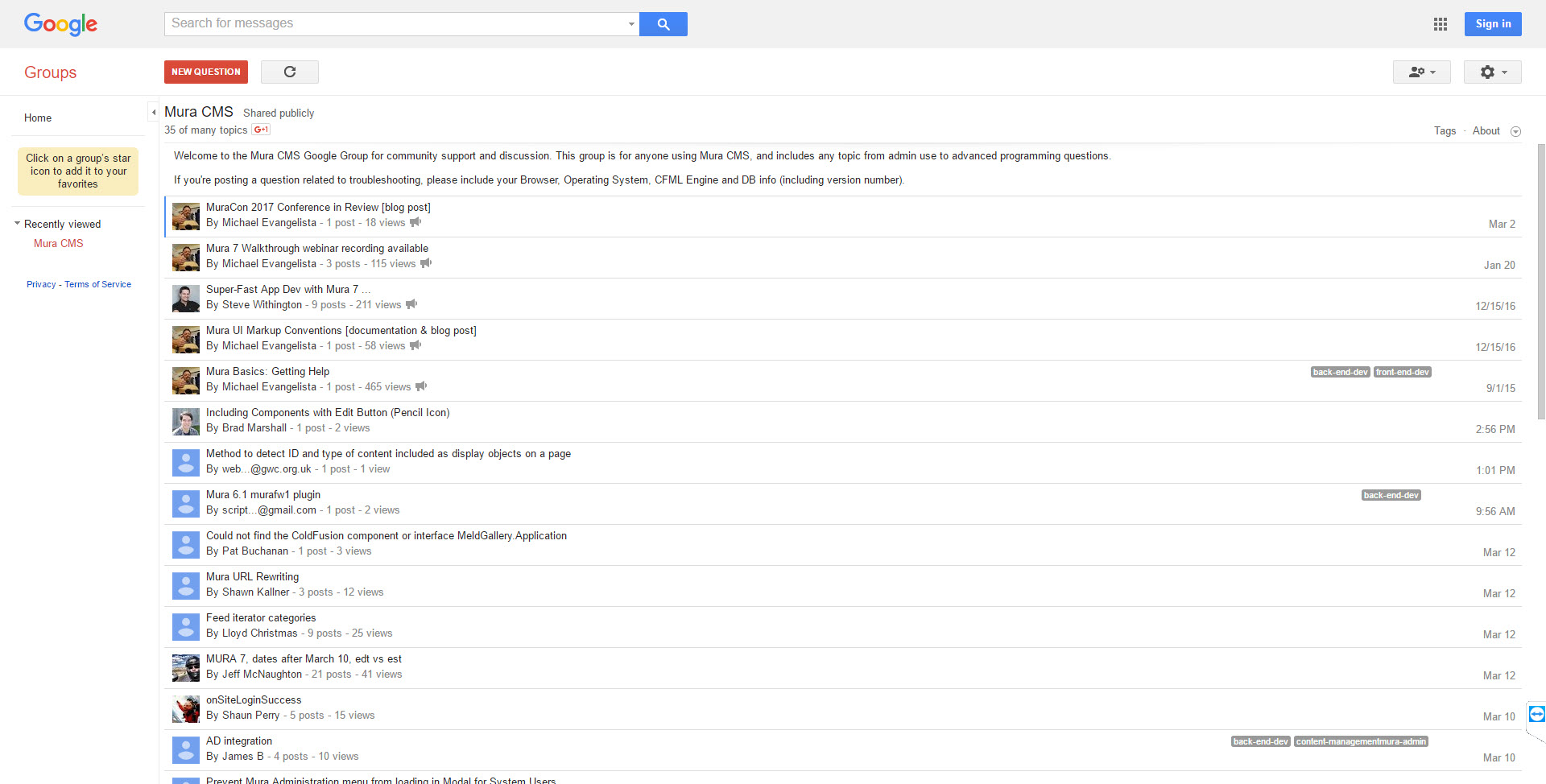 Important announcements and helpful tips are displayed at the top of the subject list, and posting a new question is an easy one-step process. By utilizing the search feature, a wealth of question-and-answer topics, suggestions and fixes are instantly available.
To receive alerts about new questions or replies to existing conversations as they are posted, the Google Groups "Membership and Email Settings", found at the top right under "My Settings", provides a few options for email notifications including daily summaries and per-topic subscriptions. The daily digest option is a great way to review recent activity in the Mura Google Group, directly from your inbox, with brief summaries and links to each topic.
CFML/Mura on Slack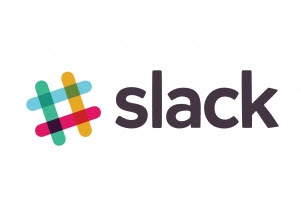 Providing a less archival and more rapid-fire exchange, Slack has been widely adopted as the preferred communication tool of thousands of companies. With membership areas and discussions divided into "teams" and "channels", this popular platform can be accessed in a web browser, or as a desktop app for both Mac and Windows.
Membership to the CFML team can be requested at http://cfml-slack.herokuapp.com, and is open to anyone. Finding the Mura Slack channel is as easy as searching the list of channels within that team page, once the membership is verified via email.
This is a great medium for asking a quick question, providing help to another Mura user, or sending a direct message to one or more members in a private chat.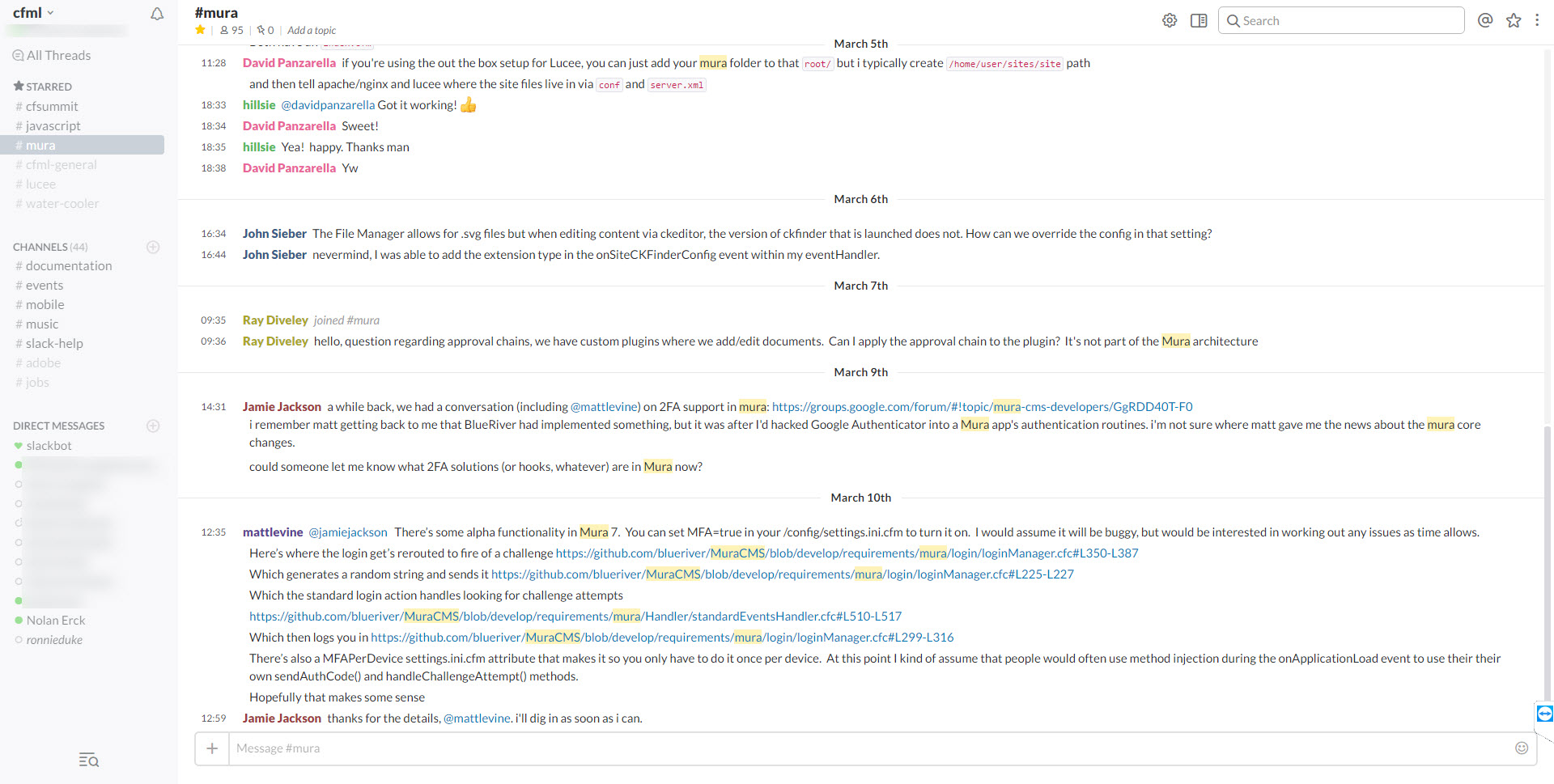 The "cfml-general" channel is another great place to visit, with over 2000 members trading tips and discussing all aspects of cfml development.
Mura Blog
When it comes to keeping tabs on the Mura development team and general things happening at Blue River, nothing beats the Mura blog. Initially launched in conjunction with the release of Mura 5.4, the blog has been providing a varied series of tutorials, announcements and other informative articles to the Mura user community since 2010.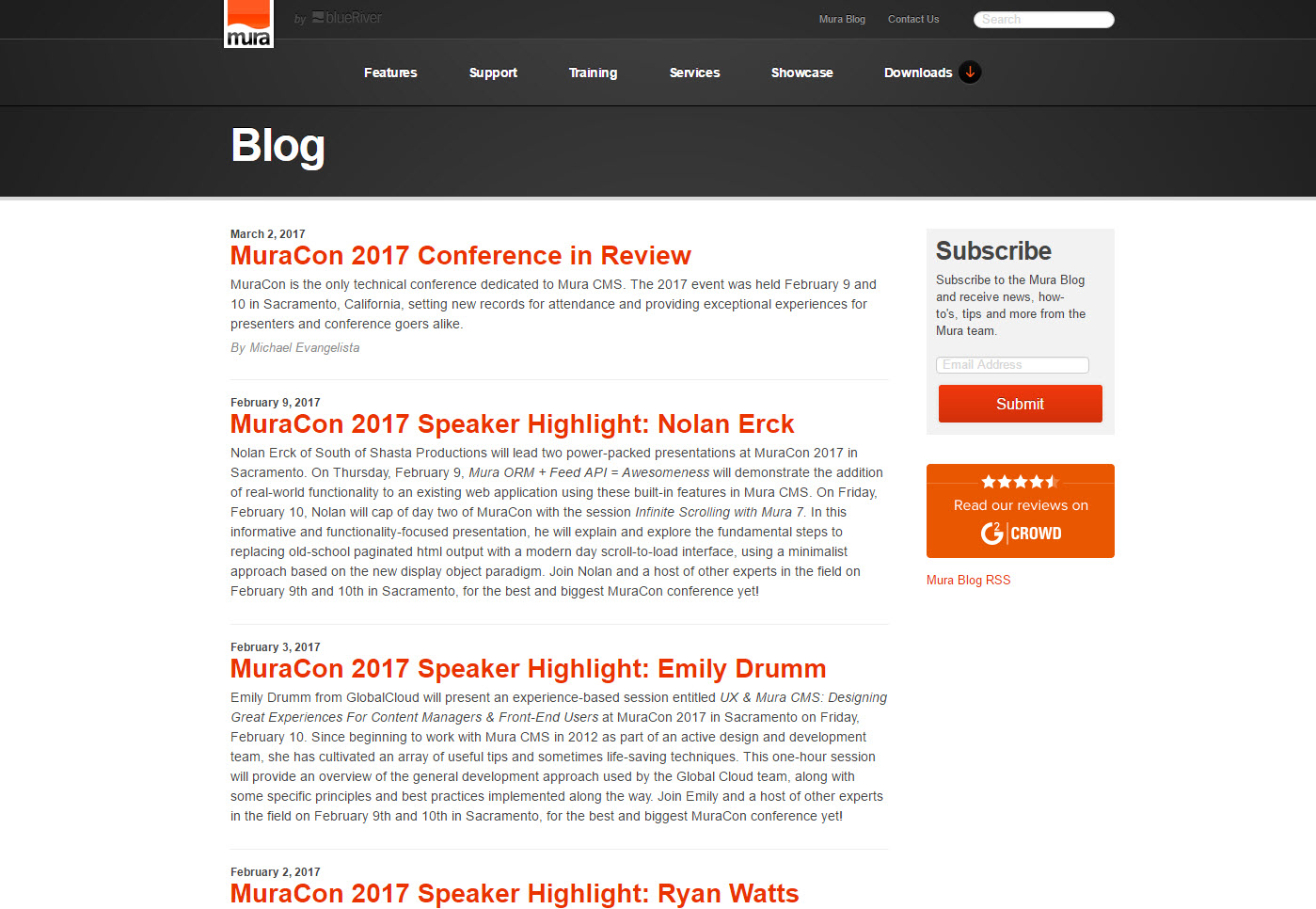 Visitors to the Mura blog have the option to subscribe to the associated mailing list. Simply enter your email address to receive regular updates about new blog content, as well as important messages from the Mura team.
If an old-school RSS feed is more your speed, use the "Mura Blog RSS" link to see topic titles, dates and summaries in any standard feed reader.
In addition to ongoing announcements about features, fixes and releases, the Mura blog is also the best place to find out about new things happening in the Mura product ecosphere in general, along with useful tips and tricks, and deep-dive discussions of specific tasks and projects using Mura. Also watch for videos of the recent MuraCon 2017 presentations, coming soon!
Mura on GitHub
Whether or not you use GitHub for your own projects, the BlueRiver/MuraCMS repository is an important resource to be aware of. In fact, the built-in "issues" system at github.com is the official method for reporting Mura bugs and is directly monitored by Mura's development team.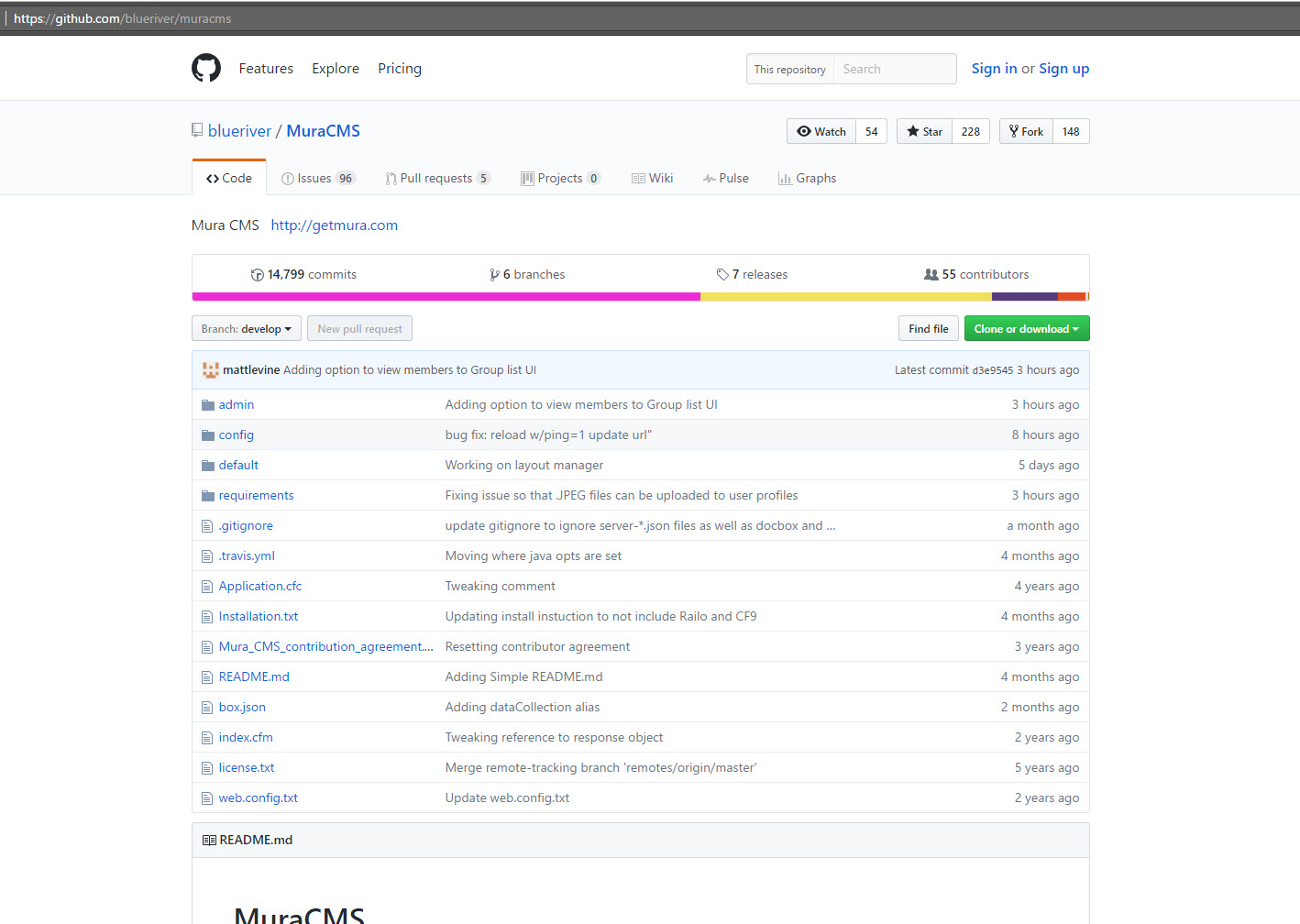 By "watching" the MuraCMS repository (requires a free GitHub account), you will be notified via email of new commits to the code base, along with options to subscribe to conversations about reported issues. Sometimes a problem you notice is fixed in a minor update, and referenced in the commit messages or the changes to the code itself. In that case, a core update to your Mura installation will automatically include the most recent updates once they are made available.
The search option can be incredibly useful when looking for a specific string or phrase in the code, and the very nature of GitHub's code revisioning means you can look back at the history of every file, or even switch between branches to view the code in different versions.
Of course, GitHub can also be used to "fork" or replicate the Mura code repository, and as an open source project, contributors are able to directly provide fixes or extensions to existing code (after signing the contribution agreement).
Social Community
Of course, @MuraCMS is on Twitter. Follow us there for an array of timely tweets or watch for the #MuraPlatform hashtag.
Along the lines of the Google Groups forum, LinkedIn has a fairly active Mura Developers group. Though not officially sponsored or maintained by Blue River, this is a good option for LinkedIn users.
More community support options are referenced here . If we have left anything off the list, or you know of another good community platform, drop us a line, we would love to hear about it!
Documentation and Webinars
As new features are developed and added to coming releases, they will be documented here. Likewise, recordings of special online presentations or "webinars" will be listed on this page as they become available.
While both of these are generally mentioned or even showcased on the Mura blog, it is a good idea to revisit these and other pages at GetMura.com every once in a while.
Your Feedback is Important
Above all else, the most important element connecting Mura users to useful information is you. Whether writing about Mura on your own blog, participating in conversations and sharing through social media, or contributing to the discussions on Slack, Google Groups, or GitHub, the dissemination of knowledge and ideas is invaluable in terms of increasing adoption, and maximizing overall awareness of all that Mura has to offer.
Always a work in progress, the people creating, documenting and supporting the Mura product all strive for a common level of excellence, and we're doing our best every day to deliver exceptional development and educational experiences.
By monitoring the sources that best fit your workflow and taking a little time to catch up now and then, you'll be sure to find out about any new developments, increase your productivity, and stay informed about everything the Mura development team and community have to offer.