Setting a record for attendance, MuraCon 2017 was focused on experiences - those of the Mura user and developer, and of the digital community at large - with a power-packed roster of presentations from industry-leading experts and prominent Mura CMS community members.
This year's conference was held February 9 and 10 in downtown Sacramento, at the Sheraton Grand Hotel, just a few blocks from the California State Capitol.
Kicking things off after a brief welcome and introduction by the MuraCon organizers, Robert Rose of the Content Marketing Institute offered a powerful keynote presentation, titled The Wisdom Worker In The Digital Experience, in which he explored the deepening intersection of content and technology while asking, "How do we bring meaning to the machine?".
The all-new Digital Experiences (DX) track on day one added a solid lineup of sessions presented by leading marketing professionals, culminating in an engaging round table discussion in which Rose was joined by Carla Johnson, Ardath Albee and Jeff Freund. This private meetup provided direct access to the collective thoughts and insight of these well-known DX authorities, adding a layer of diversity and novelty to the overall conference experience.
Meanwhile, the first day Mura CMS track delivered an impressive series of one-hour talks based on advancements and innovations with Mura, covering topics like security, e-commerce and workflow automation, as well as in-depth explorations of specific projects and achievements relevant to Mura users, highlighting not only the potential for the platform, but for the individual and the company to succeed with a Mura-based development process.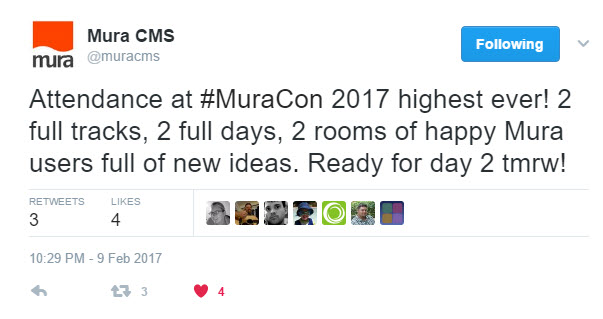 To start off day two, the Blue River team provided an overview of their accomplishments and releases since MuraCon 2016, including Mura CMS version 7, the Mura Experience Platform (MXP), and major enhancements to Mura, with an emphasis on content itself, which can now be extracted and managed completely outside the standard user interface via the Mura API.
Among the most popular topics at this year's conference were javascript-based integrations, content as a service aka "headless CMS", and the use of containerization platforms like Docker for consistency and streamlined operations. Some of Mura's version 7 features were explicitly demonstrated in talks about the new Form Builder, Mura ORM, theme creation, simplified display object management and the newly-enhanced API options. Also popular were the newly-added "lightning talks", a series of quick and informative 20-minute sessions at the end of each day, delivered in collaboration by assorted members of team Mura.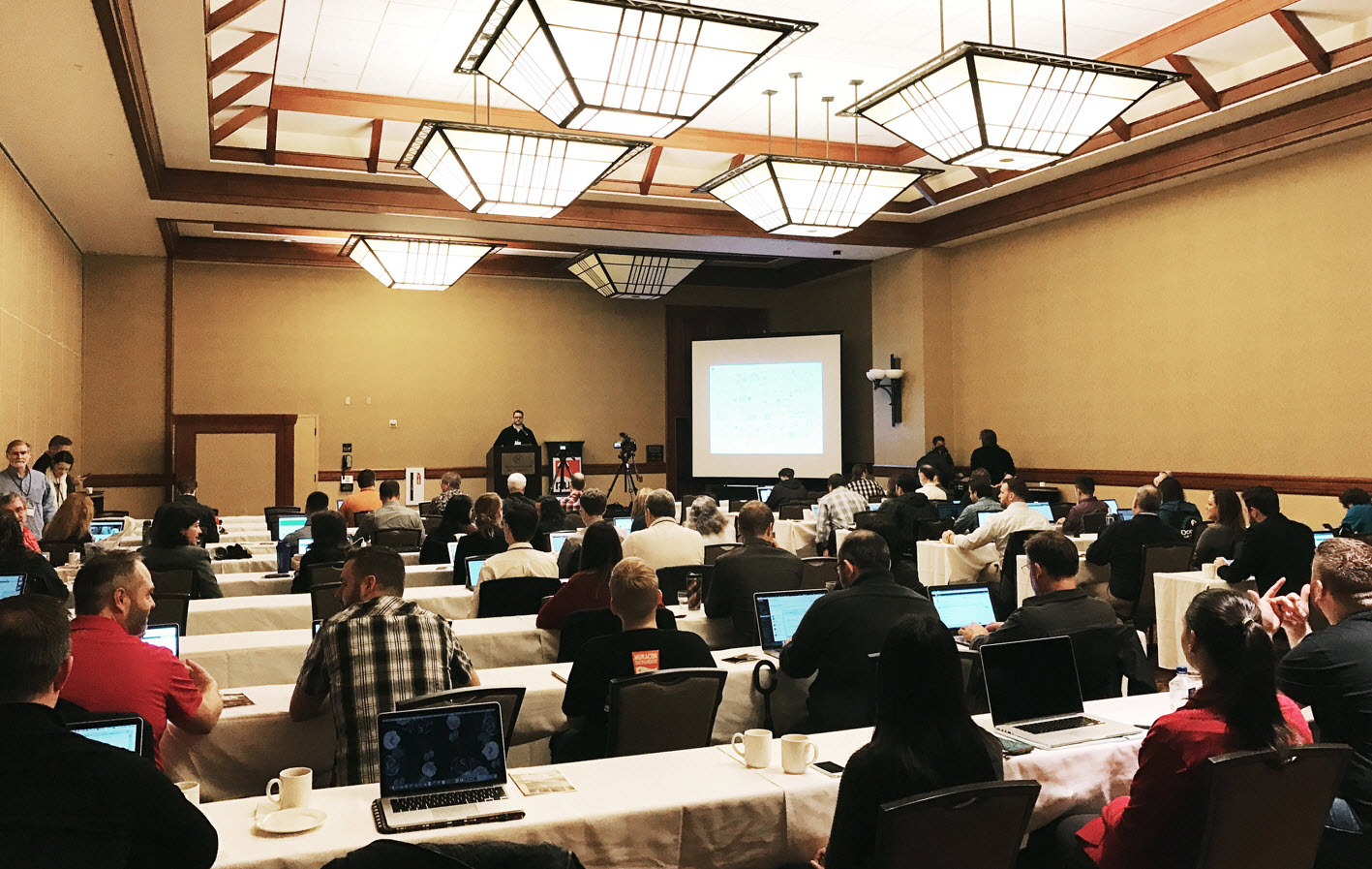 In addition to facilitating an exceptional educational experience, the MuraCon schedule was designed to provide multiple opportunities for socializing, networking and face-to-face interaction among attendees and presenters, including technical and creative professionals from across the US and around the planet. Engaging conversations, memorable stories and newly-formed technical alliances - not to mention artful MuraCon t-shirts - were among the top takeaways cited by those in attendance.
More than ever before, the emerging face of the Mura community is that of a creative, modern and dedicated user base with an effective and energetic development team leading the way. Feedback from conference goers has been overwhelmingly positive, and Blue River is already working on plans for MuraCon 2018.
Video and audio recordings of the MuraCon 2017 presentations are currently in production and will be announced on the Mura Blog when made publicly available. Also watch the blog for updates about next year's event, and be sure to visit muracon.com for registration, scheduling, speaker lineup and other details as they become available.