Any successful business-to-business relationship requires a fair amount of balance and perspective. Customer preferences, personalities, and varying levels of expertise all factor into the creative mix when working cooperatively towards an end product or deliverable service. The overall experience of the end user is both defined and tempered by the tools and techniques of the people behind the scenes.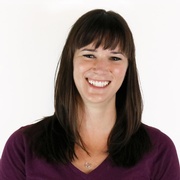 In the fields of website design and application management, the parallel needs for ease of use and efficient functionality come into play with an equal emphasis on both aspects of the published website or app's eventual performance. Emily Drumm, a long-time Mura user who will join the list of presenters at this year's MuraCon conference in Sacramento, has spent a considerable amount of time balancing these two aspects of technical development.
Emily recently completed a master's degree in user experience design at Kent State University. This latest academic achievement complements her bachelor's degree in graphic design from Miami University, where she also fostered an enthusiasm for horsemanship, exploring the trails of western Ohio and competing on the school's nationally-ranked equestrian team.
Aside from providing a much-needed contrast to the time spent in the classroom and office, horseback riding requires intentional communication, discipline and focus, and a certain skill for avoiding hurdles and obstacles. As a full time product designer and former front end developer, Emily employs a similar approach to her work at Global Cloud, from her Cincinnati office overlooking the Ohio river.

Tasked with developing and improving a system called DonorDrive, which helps non-profit organizations raise money online, she is intimately familiar with the nuances of fundraising both as a human endeavor and a technical process. In her previous role on the front-end design team at Global Cloud, producing and delivering Mura CMS-based websites to clients in various industries, she faced additional challenges particular to each project or client company, balancing the workflow and time requirements of the development staff with the overall goal of a user-friendly, fully-functioning product. In both capacities, like the skills required to stay upright in the saddle, managing and meeting the various feature requests, use cases and ongoing business growth presents a constantly moving target where a sense of balance plays a central role.
Emily's MuraCon 2017 session, UX & Mura CMS: Designing Great Experiences For Content Managers & Front-End Users, will be presented on Friday, February 10 at 11:00 a.m. Since beginning to work with Mura CMS in 2012 as part of an active design and development team, she has cultivated an array of useful tips and sometimes life-saving techniques. This one-hour session will provide an overview of the general development approach used by the Global Cloud team, along with some specific principles and best practices implemented along the way, from consistency of terminology and language to basic order of operations, in order to provide an intuitive, user-friendly end product with a working maintenance strategy for users, developers and managers alike.