February 9th & 10th, Sacramento, CA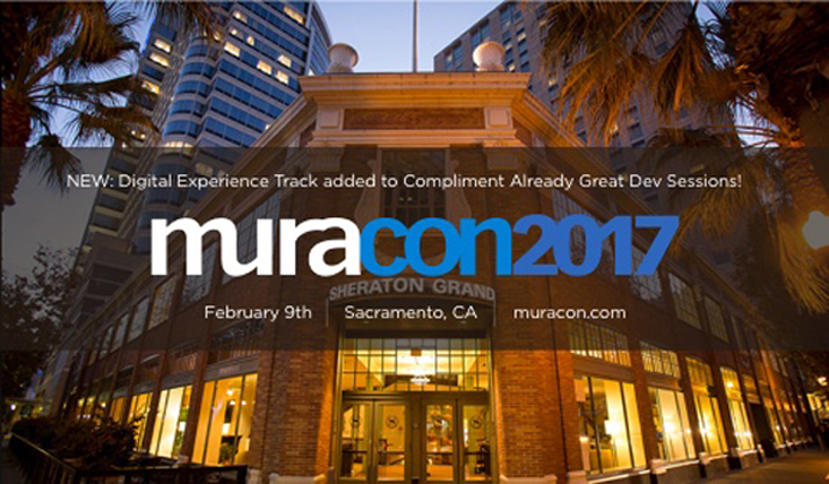 The only Mura CMS user conference in North America!
Come experience two full days of informative, insightful Mura CMS presentations and demonstrations, plus an all-new Digital Experience track on Day 1! This is a great chance to meet the Blue River team and other Mura users in person, and to learn from some of the best and brightest in the community along with some of the best known names in marketing.
This year's MuraCon theme is "experiences", and the schedule features a power-packed roster of experienced presenters, sure to elevate your skills and enlighten your business workflow. From marketing and strategy to programming and application architecture, there will be something for everyone!
In the Heart of Historic Downtown Sacramento, California
MuraCon will be hosted at The Sheraton Grand Sacramento Hotel, located at 1230 J Street. It's just minutes away from the California state capitol building, and everything else Sacramento has to offer. The conference will run from 8:00 a.m. until 5:00 p.m. on both Thursday, February 9, and Friday, February 10, 2017. Continental breakfast and a lunch will be provided on both days, and are included with conference registration.
Schedule Highlights & Preview
Day One will open with an insightful keynote by Content Marketing strategist Robert Rose titled The Wisdom Worker In The Digital Experience, in which he explores the question, "How do we bring meaning to the machine?". The rest of the day's schedule is chock full of substantive topics, arranged in two distinct tracks - the new MuraCon DX track based on Digital Experiences and Marketing, along with more standard MuraCon fare, including:
SEO Best Practices with Tom Rusling
Slatwall eCommerce Unleashed with Greg Moser
A Continuum Approach to Compelling B2B Experiences with Ardath Albee
Mura ORM + Feed API = Awesomeness with Nolan Erck
In the MuraCon DX track, a roundtable discussion panel caps off the day with leading Marketing Professionals Robert Rose, Carla Johnson, Ardath Albee and Jeff Freund. This is an exceptional opportunity to learn from the best in the field!
An overview of Mura 7 will start Day Two, followed by a solid lineup of Mura-centric content in two complete full-day tracks covering an in-depth curriculum with topics like:
Redesign: The new 80/20 Rule with Chad Carstensen
Mura & Docker Swarm: Enterprise Level Scaling with Eddie Ballisty
UX & Mura CMS: Designing Great Experiences with Emily Drumm
Elasticsearch & React with David Panzarella
... and much, much more! (See the full conference schedule for a complete list of session topics and descriptions.)
We're excited about the things in store for MuraCon 2017, and look forward to seeing you in Sacramento in February!

Last Call for Early Bird Pricing!
MuraCon 2017 is scheduled for February 9th & 10th, at the Grand Sheraton in downtown Sacramento.
Mark your calendars now, and take advantage of our early bird rate of $349 - extended through December 31st!
(Regular price for attendance will be $499).
Register for MuraCon