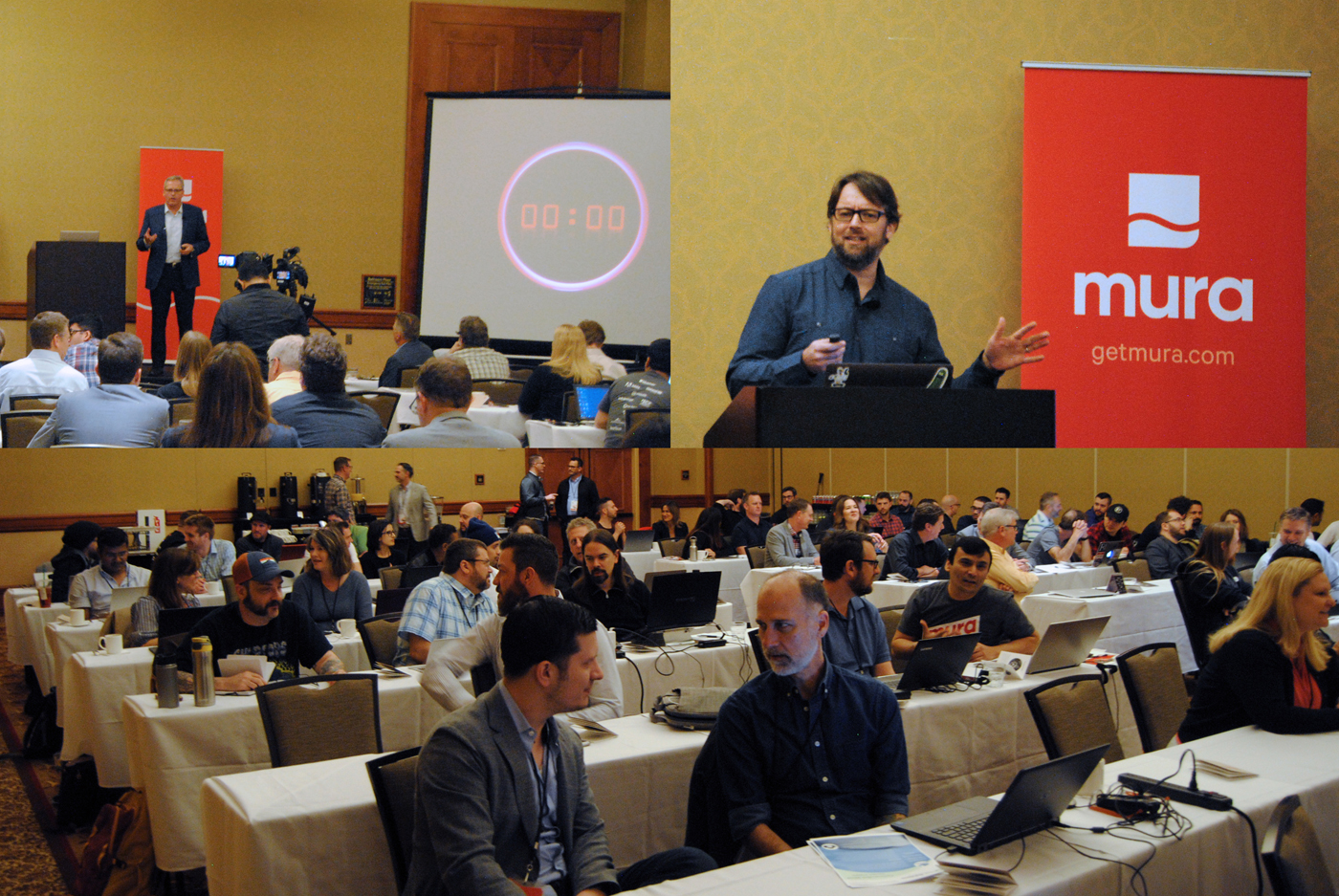 MuraCon 2018 keynotes "Storytelling: Digital's Most Disruptive Hack" with Park Howell and "How Docker is Changing IT" with Bret Fisher.
"It's not about what we make, it's about what we make happen."
- Park Howell
If we take Park Howell's message from his keynote at MuraCon 2018 to heart, it becomes clear that while what we "make" as developers, content managers and marketers is important, it may not be given its due if we can't communicate "what we make happen" by doing it.
And that was the theme of this year's event—making stuff happen and using the power of story and other communication hacks to amplify your impact.
Following a sold-out day of pre-conference training, MuraCon 2018 kicked off on Thursday, April 5 with a warm welcome from blueriver CEO Ryan Thompson, followed by a pair of lively keynote presentations. Docker Captain Bret Fisher offered a concise overview of the ways that container-based development is changing the IT landscape, along with a brief history and thoughts about the potential future of Docker itself and Park Howell from the Business of Story attained peak audience participation with an interactive exercise using the ABT ("and,but,therefore") approach to storytelling, and the way it applies to our personal and professional purposes.
Workshops and Presentations
Key topics and recurring themes for this year's developer track included integrations with external APIs, Mura's expanded options as a headless content service, and a workflow focused on containerization, via Docker. (The blueriver dev team has standardized on Docker, experiencing the many immediate and perpetual benefits first hand.)
The full morning slot on Friday, April 6, was comprised of a single three-hour workshop, Intro to Docker and Containers with Bret Fisher, providing a completely hands-on experience guided by a real-world Docker expert into the "what, why and how" of using docker for development.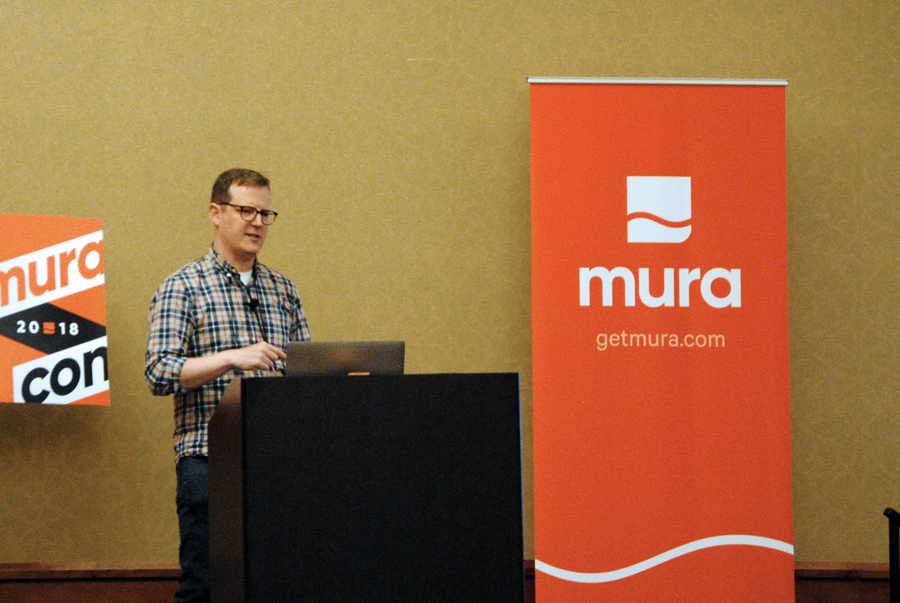 The power-packed Digital Experiences or "DX" track was expanded this year to a full two-day series of expert and varied content from leading marketing professionals Peg Miller, Tom Rusling, David Hurley, Jeff Hadfield and Logan Mayville, along with insights and experiences from members of the blueriver team.
Attendees of Friday's workshop on the DX track, How to Clarify Your Story to Amplify Your Impact and Simplify Your Life with Park Howell, learned to refine the personal stories of the passions behind their pursuits and identify the "why" behind "what we do."
This year's content was largely focused on key concepts and developments that contribute to the ongoing evolution of the Mura platform, and the experiences of its creators and users. The commitment to providing optimal conditions and minimal friction through each phase of development was emphasized in blueriver CCO Sean Schroeder's general presentation Finding Flow at blueriver: A Branding Story.
The overall content of the presentations was very informative. All the presenters and blueriver staff were very friendly and inviting, easy to converse with.
- Eugene Lampione, web developer at Chelsea Piers
These concepts were further expounded in blueriver Project Manager Christine Ballisty's talk entitled The DPM's Guide to Creating Project Flow for Digital Teams, in which she outlined proven components for sustainable success in blueriver's team environment.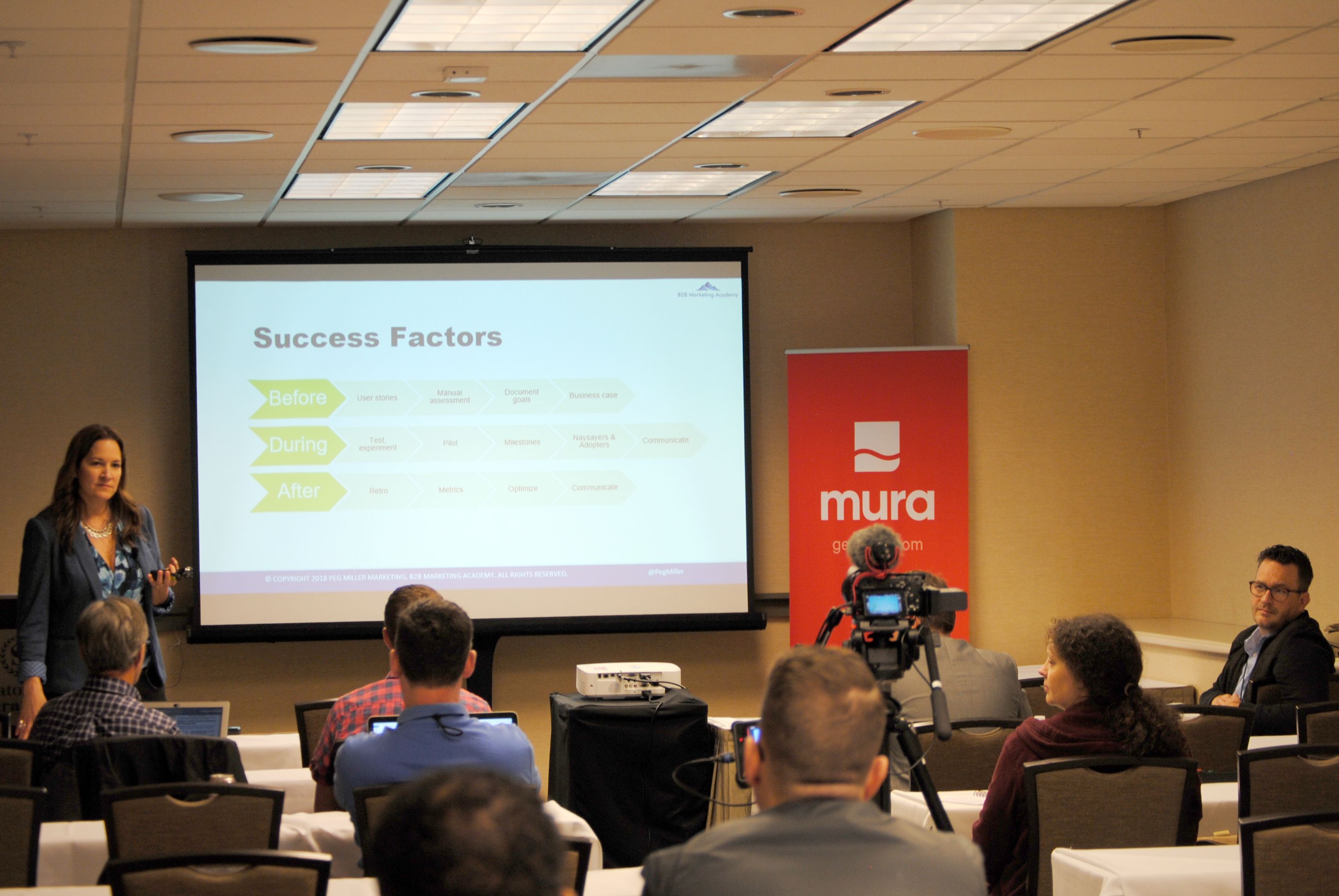 Some of the more Mura-specific topics included a look at the flexible Mura 7.1 theme architecture with blueriver Director of Training and Events Steve Withington, a deep dive into Mura.js and the JSON API with blueriver CTO Matt Levine, and a practical guide to Mura development with AWS by Nick Sollecito from Scientific American.
Back by popular demand, a series of brief "lightning talks" filled the last hour of each day on the developer track, with members of the blueriver development and professional services teams highlighting features, projects and quick wins with the Mura platform, with Friday's final session capped off by a quick wrap-up and fun prize drawing for all in attendance.
blueriver would like to extend a warm and heartfelt thanks to everyone who attended MuraCon 2018 from across the country and around the globe, and to all of the wonderful speakers who provide the thoughtful and entertaining content that makes this conference what it is.
MuraCon Recordings and Presentation Slides
Links and downloads for the visual slides used in many of this year's sessions are available on the MuraCon 2018 schedule - others will be added as they are made available by the presenters.
Videos of the MuraCon 2018 presentations are currently in production. The recordings will be released to MuraCon attendees as soon as they're ready, and announced on the Mura Blog when publicly available.
Thanks to Our Sponsors
We are grateful for the support of the sponsors who helped make MuraCon possible!