MuraCon 2018 is shaping up to be the best one yet. This year's conference, April 5-6 in Sacramento, will offer up another jam-packed roster of presenters and topics on two tracks, with a featured presentation and workshop by leading Docker authority Bret Fisher!
Docker-driven development
Since inception, the Mura Platform has been driven by necessity, with road-tested features built on demand to the specifications of blueriver's team and clients. The meteoric rise of Docker for standardization and collaboration has radically altered the software ecosystem, and we have taken full advantage of some of the key benefits.
Every blueriver project now utilizes aspects of the Docker platform, from the sandboxed "no fuss" packaging to robust deployments on the Docker Cloud, and - as of version 7.1 - Mura CMS itself is now completely Docker-friendly. Some subtle adjustments have been made under the hood, along with a streamlined file structure to completely support the rising "immutable" paradigm in application development.
With all that's been happening, our team has accumulated years of combined Docker experience, and this year's conference will have a stronger-than-ever "Docker first" message. To that end, we are excited to announce the addition of a very special guest to this year's MuraCon lineup!
Captain, my (Docker) captain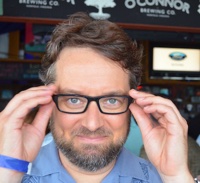 As a power up to the already-enticing content at MuraCon 2018, Docker expert Bret Fisher will be taking the MuraCon stage both as a keynote speaker, and presenter of a half-day workshop on day two of the conference, free for all MuraCon attendees!
A long-time sysadmin and official "Docker Captain" with a passion for being on the leading edge of technology, Bret is a strong advocate of the benefits of containerization and continuous deployment.
We first got to know Bret through his wildly popular course on Udemy.com, Docker Mastery: The Complete Toolset From a Docker Captain, in which he lays the foundation for total comprehension and productivity with Docker in an easy-to-understand format aimed at users of all experience levels, including those completely new to Docker and containerization in general. In addition to attending MuraCon, we highly recommend this course as a great way to introduce Docker into your development cycle and maximize potential Flow in today's emerging technology landscape.
Early Bird pricing ends March 1!
As the only annual conference devoted specifically to Mura, the variety of content, expertise of the speakers and opportunity to network with fellow Mura users at MuraCon is unmatched at any other event. Register by February 28 to take advantage of the Early Bird discount, and be sure to book your hotel early to ensure accommodations at or near the conference venue!