At MuraCon 2017 in Sacramento, Blue River's Director of Education Steve Withington and CTO Matt Levine started off the second day's events with a tour of changed and newly-added features, and a presentation of useful techniques and tips for working with the latest version of Mura CMS.
This day two keynote set the tone for the well-attended conference, including a warm welcome to all and an open invitation to contact any of the Blue River team at the event, along with a hearty thanks to the MuraCon sponsors and speakers. A recurring theme in comments from attendees, when asked about conference highlights, is the value gained from face-to-face contact with the people who make, support and maintain Mura, and the renewed encouragement and enthusiasm for their projects they take away from those conversations.
Getting Up To Speed
Getting directly to the heart of the presentation, Steve showed off a blazing-fast installation of Mura 7 using a simple set of commands to fire up a completely functional installation, including the full server stack, via CommandBox. Mac users are able to leverage further setup functionality with the HomeBrew package manager, which Steve also featured in his walk-through.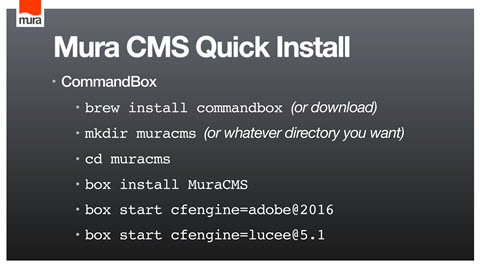 For command line users, single-line commands like these simplify complex, multi-step processes into effortless requests.
Once the server environment spins up and a few quick Mura and CFML server settings are configured, the admin is ready to go. This "instant instance" workflow jump starts the entire setup process and eases adoption of the platform as a whole. Even someone not at all acquainted with Mura CMS can start with a quick download, then log in and start working with everything Mura 7 has to offer in a matter of minutes.
Focus on Features
A true master of all things Mura, Steve highlighted some of the more notable changes in Mura 7, giving a brief tour of the powerful new inline editor, and a live demonstration of the way "galleries" and other layouts are created and managed in the new version. The impressively flexible option to show any content collection as a gallery, or in a number of other flexible, grid-based formats, has rendered the familiar gallery option obsolete as a top level content type.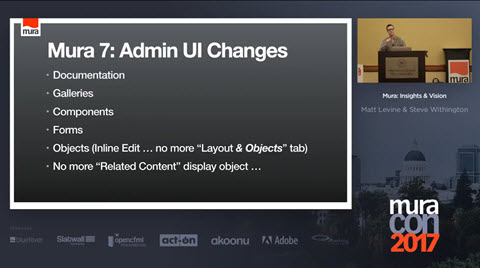 Steve Withington provides a tour of notable changes in the Mura 7 admin interface and publishing workflow at MuraCon 2017.
Perhaps the most impactful aspect of the new Mura paradigm is the transition of display object management from the admin area to the front end editor. The content tab previously labeled "Layout & Objects" is now titled simply, "Layout", and the display objects, complete with configuration options and visual drag and drop placement, are inserted and updated using the Mura 7 "inline edit" mode. This creates an entirely new interface for manipulating and extending display objects, with nearly infinite possibilities for customization.
Where's My Stuff?
Taking additional steps towards simplification, the Mura development team seized the opportunity to restructure some core admin concepts as part of the version 7 UI change. Forms and components have moved into the "content" section, and can now be grouped in folders for bulk permissions management. Likewise, the "Related Content" display object has gone the way of the gallery, since, as Steve notes, "Related content is just a collection."
In parallel with the visual editing enhancements in Mura 7, the coding structure has been made more user-friendly as well. From new display object coding and naming conventions to automatic directory-based templating for custom content types, these features exemplify the overall shift towards a more intuitive, universal and unrestrained development platform.
It's Alive!
Blue River CTO Matt Levine joined Steve on stage for a quick Q & A session in which attendees learned the answers to questions such as "How can I use TestBox unit tests for Mura with Docker?" and "What happened to the Bitnami stack?".

Matt then went on to encourage the community at large to explore developing technologies which are emerging in tandem with Mura. As an evolving platform with a visionary development team, the integration with other languages is an inevitable extension of the traditionally cfml-based Mura application. Referencing other talks at MuraCon 2017 which featured Vue.js, Node.js and Nuxt.js as alternative means of interacting with Mura's JSON API, Levine counseled the crowd, saying "Part of the vision is to make the content easy to consume."
Perhaps the most exciting aspect of Levine's presentation of the Mura 7 roadmap, was the emphasis on content as a service. Mura CMS is now "optionally headless", with a robust API for retrieving and manipulating content stored in Mura. Otherwise completely static html websites can now be managed via Mura instances hosted in other locations, including the full front-end editing capabilities of any Mura CMS site, all via the JSON API. By uncoupling the site's content from the admin area and diverging from traditional, monolithic application architecture, running Mura as a headless cms opens up a world of opportunities to extend and integrate Mura's business logic and editing capabilities with any website, in any environment.
Reiterating the open invitation to comment and provide suggestions for the evolving features and future vision, Matt reminded everyone that the Mura Platform is driven by community. As an open source project with a public codebase and an easy contributor agreement on Github , anyone who uses Mura CMS is encouraged to submit fixes, enhancements, or feature requests at any point of the development cycle.
Learn more from Steve, Matt and the rest of the Mura Platform team at MuraCon 2018 April 4th and 5th, 2018 in Sacramento, California.

Related Resources
See this Video Presentation on YouTube: youtu.be/4wgVXiTmeSA
MuraCon 2017 Video Playlist: youtube.com/playlist?list=PLcKlNuw7UGaodvcjgPujAUdFN4rambGta
Presentation Slides: 2017.muracon.com/muracon-us-2017/schedule/intro-to-mura-7-display-objects/presentation-slides/
Download or Contribute to Mura CMS on Github: github.com/blueriver/muracms
Mura Information, Blog, Support, and Documentation: getmura.com