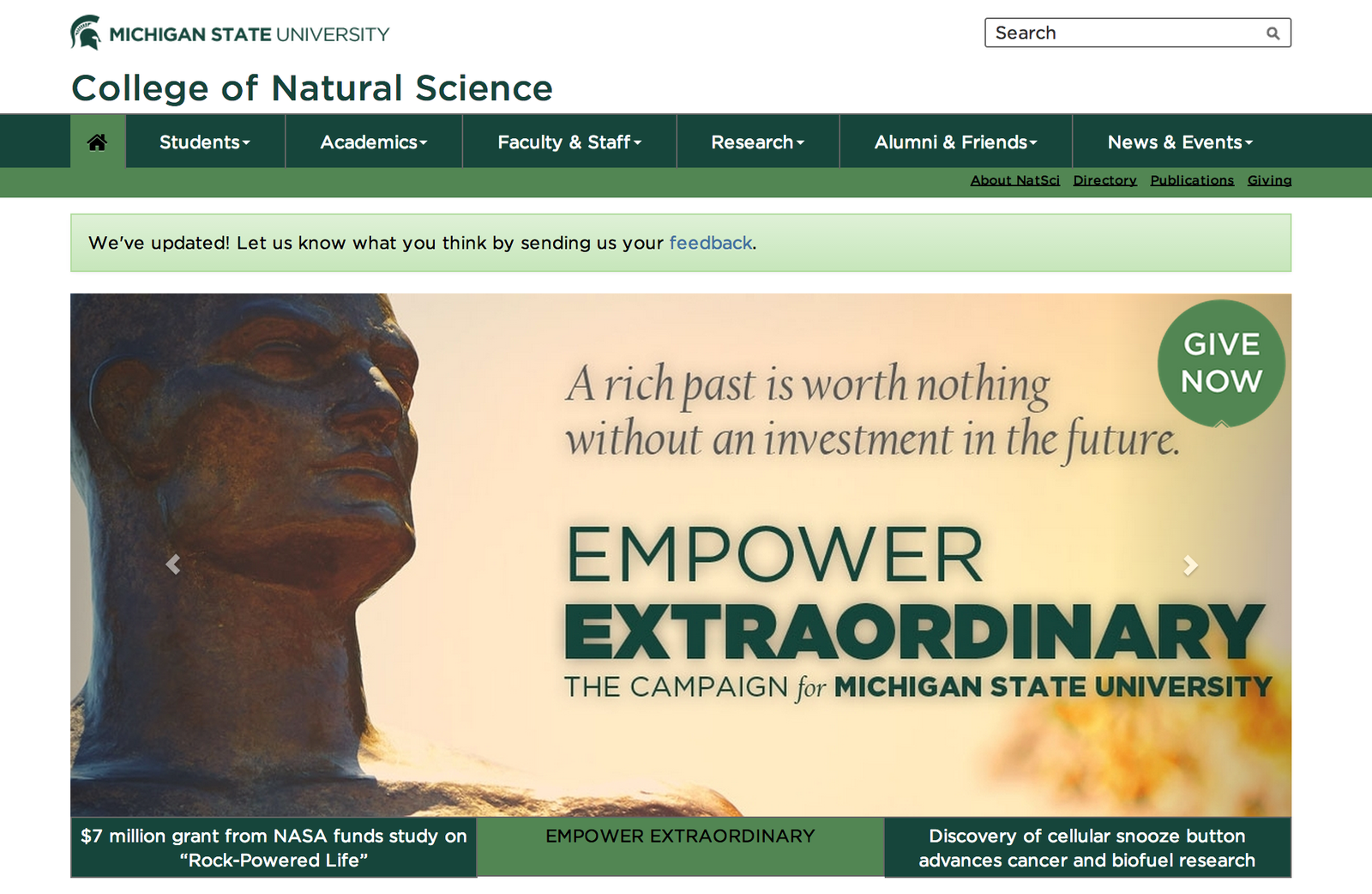 Small IT Team in Higher Education Gets Big Results from Mura
Finding a Platform That Meets a College's Requirements
Well, that's me. I am the core web team. Ryan Ward, Digital Media and Training Manager, MSU College of Natural Science
At Michigan State University, Ryan Ward—the College of Natural Science's one­-person web team—had to be both systematic and creative when he headed the search for a new content management system. The new CMS had to appeal to highly­ specialized scholars, educators, and students—as well as the administrative staff that supports their efforts. He had to meet all their requirements and ensure that the various users had access to the site appropriate to their roles. They were all potential website creators and content managers at MSU, so the system had to empower its users to create sites and update content on their own with minimal intervention on his part. But at the same time, he wanted to keep a tight control on design standards and IT infrastructure demands, so he set out to address everyone's needs—including his own.
A CMS Platform That's Easy for IT Management and Supports Educational Content
As far as set up goes, we're a hub and spokes. I'm at the center in the Dean's office and I do all the training and setup for the departments from there. Ryan Ward, Digital Media and Training Manager, MSU College of Natural Science
Ryan coordinated all of the content management technical infrastructure, design and support on his own. But the users in all 23 departments and programs wanted a say. With so many voices, he conducted a college­wide, systematic and objective review process that considered several content management systems. After considerable investigation, he found that everyone shared common requirements. They wanted an easy way to put up forms, handle data, and release timely content. They wanted a complete system with predictable costs.
Mura rose to the top of the list.
Mura: The Complete Package for Higher Education
In comparison with other systems, Ryan saw that Mura CMS would be easy to manage while still affording him the versatility the educators and staff at MSU desired. He wanted to develop an infrastructure plan—and then stick to it. From his perspective, there simply wasn't time to sift through too many plug­ins that all did the same thing. And he wanted to be able to upgrade without a lot of custom coding. Fortunately, Mura CMS gave him the ability to meet the college's needs without getting into the plug­in game and off the upgrade path.
Mura is the complete package. The built-in features on Mura were plug-ins on the other systems. I didn't want to get stuck relying on the whims of the plug-in authors. That's not good enough when you have infrastructure based on their code. Ryan Ward, Digital Media and Training Manager, MSU College of Natural Science
A CMS Platform for Schools That Need Speedy Training and Deployments
Mura CMS met Ryan's requirements too.
It takes less than 10 minutes to launch a new site—including registering a domain. Ryan Ward, Digital Media and Training Manager, MSU College of Natural Science
Mura CMS helped him tackle the biggest challenge he was facing: fitting all the disparate departments, programs, and labs in the college under the MSU umbrella and getting them all up to speed. He was able to modify a series of site themes so each department and program could customize its page while still conforming to the university's branding requirements. This made the process user-friendly for the departments. And it made his job easier too.
For instance, students and alums alike strongly identify with their school colors, so they needed to figure prominently in all departmental sites. Since administrative assistants or student employees might not think about such branding requirements, Ryan configured Mura CMS to enforce color choices that conform to the university branding standards.
A CMS Platform That Meets Higher Education Standards for Website Accessibility
By pre-testing the color palette with a visual contrast checker, he could ensure the college's sites also comply with federal accessibility requirements. Now, when a staff member changes a background color, the text color automatically changes to ensure accessibility. And, for Ryan, his workload is lighter because Mura CMS ensures that he doesn't have to worry that users in the college will modify a key design element.
Not only does it take Ryan less than 10 minutes to launch a new site because the entire structure is ready to go, but—by creating a main design pattern and templates for a site's structure—it became possible to train an individual on the general content-management principles in an hour and a half.
A Content Platform with Responsive Design for the Entire College Community
With responsive design, MSU's sites reach the people who keep the university running—staff, faculty, students and alums—when and where they choose to access it. Whether they're using a desktop system or a mobile phone, forms, calendars, and updates all work as required. Students find out about lectures and events in a timely fashion, administrators trust that logistics get handled accurately, and alums who want to check in with their old department can connect easily.
A CMS Platform to Help the College Build for the Future
We're hitting a tipping point. The people on Mura are enthusiastic about it, so we're really starting to get some momentum. Ryan Ward, Digital Media and Training Manager, MSU College of Natural Science
The Mura presence has grown significantly at MSU. As part of a voluntary transition for the college of Natural Science, Mura now powers almost 100+ sites. Standardized design has empowered users to build their own sites. They like how intuitive things are, and their energy is driving more and more departments to Mura.
Plus, by designating specific permissions for various users, Ryan has reduced the level of effort required to administer websites while retaining the control of brand and accessibility compliance. Each department and program focuses on the information they want to convey, and Mura CMS handles the educational design requirements for them. Mura CMS meets their needs, whether it's a full departmental overhaul or simply individual faculty updating their directory pages with recent research.
With Mura, even a one-man team can get it done.