We're very proud to announce that Mura CMS was named the winner of the Best Enterprise CMS - Other Languages category at the 2014 CMS Critic People's Choice Awards.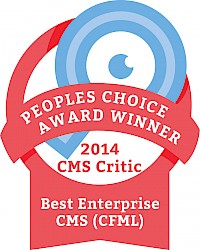 Open-source Mura CMS is used world-wide by leading organizations like CSX, the United States Senate, the European Commission, Intel, NATO and many, many more.
As CMS Critic said about our win "This clearly shows that not only do their customers love them, so do our readers".
If you're interested in learning more about Mura CMS, download it and give it a test run, or simply get in touch with us and we'll be happy to give you a walk-through and answer any questions you might have.