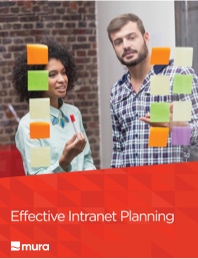 Effective Intranet Planning
Making the Case for an Intranet
Why does your company need an intranet?
The many reasons behind why deploying an intranet might just be one of the most effective uses of IT resources out there.
Plan for Success
Resources for planning and gathering requirements.
Companies looking to develop useful, thriving intranets don't have to go it alone.
Common Features
What features should you include in your intranet?
We weigh on what features to include while considering the difficulty of implementation, how often a feature will be used, user interest, and various business needs.
Choosing a Platform
The strengths and weaknesses of other platforms.
We'll discuss how to balance costs against your IT department's skills, available time and budget.
Common Obstacles to Deployment
How to set achievable goals and expectations.
Our steps towards how to create achievable goals, meet them, and build support slowly.
Keys to a Successful Intranet Roll-out
Different ways to improve your chances of success.
Use these concrete tips to engage, excite and build shared ownership amongst your users. You'll also end up with a better intranet.
Measuring Success
Once you've launched, how do you measure success?
The value of your intranet grows over time, provided you take the right steps towards continuous improvement.